You can make family mealtime a priority in your home even when it seems like everyone is rushing. Being pressed for time doesn't mean you can't make dinner at home or that it has to be boring. With these 100 meal ideas in under 30 minutes, you can explore flavors from around the world and also enjoy classic and comforting foods you'll want again and again.

We all know that eating at home saves money and it is a wonderful way for the family to connect during busy times. These 100 ideas with quick-cooking ideas mean you'll never have to worry about what to make when you're super busy.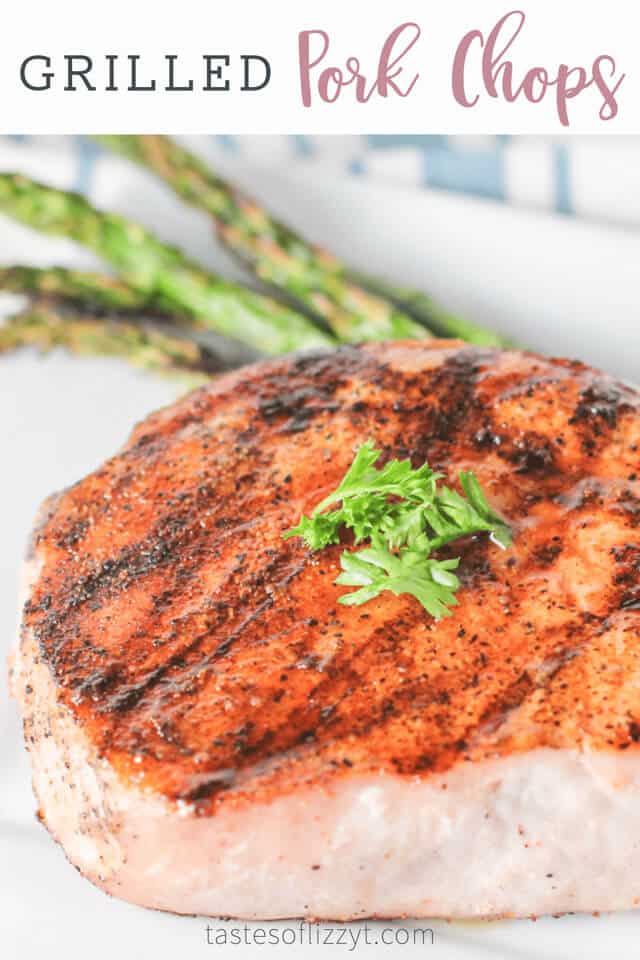 Everyone will love these Grilled Pork Chops from Tastes of Lizzy T. they're seasoned to perfection. Served with asparagus or your family's favorite green veggie to round out your meal.
When you don't want to get too full you'll find Chicken Lettuce Wraps from Suburban Simplicity to be just the right healthy dinner dish. They're great for just before a soccer match or basketball game. The protein gives energy without weighing anyone down. Add some white or brown rice for a more sustaining meal.
Creamy Vegan Pumpkin Sweet Potato Soup is found at The Banana Diaries is lusciously creamy and will bring to mind all the warm feelings that are found around the Thanksgiving table.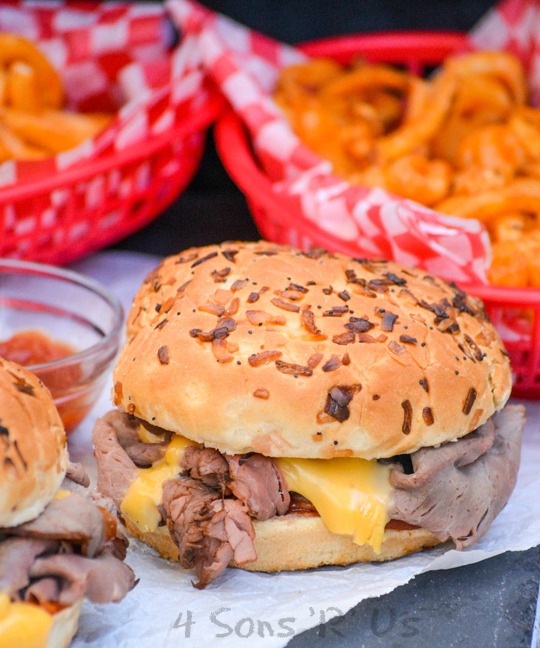 You don't stop at the fast-food restaurant when you can make these quick Copycat Arby's Beef & Cheddar Sandwiches from 4 Sons R Us. You'll discover all the same wonderful flavors can be quickly put together in your own kitchen. The kids will love these with a side of tater tots.
Chicken, ham, and swiss can only spell one thing, chicken cordon bleu. In this Chicken Cordon Bleu Burgers from Home Cooking Memories, you'll discover all those classic flavors in one scrumptious bite.
If you are craving the umami goodness of a spicy Asian dish you'll love that you can cook 20 Minute Spicy Thai Noodles from Recipe Simple so quickly! And even better it's a complete meal in itself so no need for any side dishes.
Ground Turkey Burrito Recipe from Great Peace Living uses low-fat and affordable ground turkey. Pair with a simple side salad for a complete meal.
This all-in-one Ground Turkey Taco Casserole from Honey and Lime is crave-worthy! When you take it out of the oven you can serve it right up. You probably won't have any leftovers with this dish.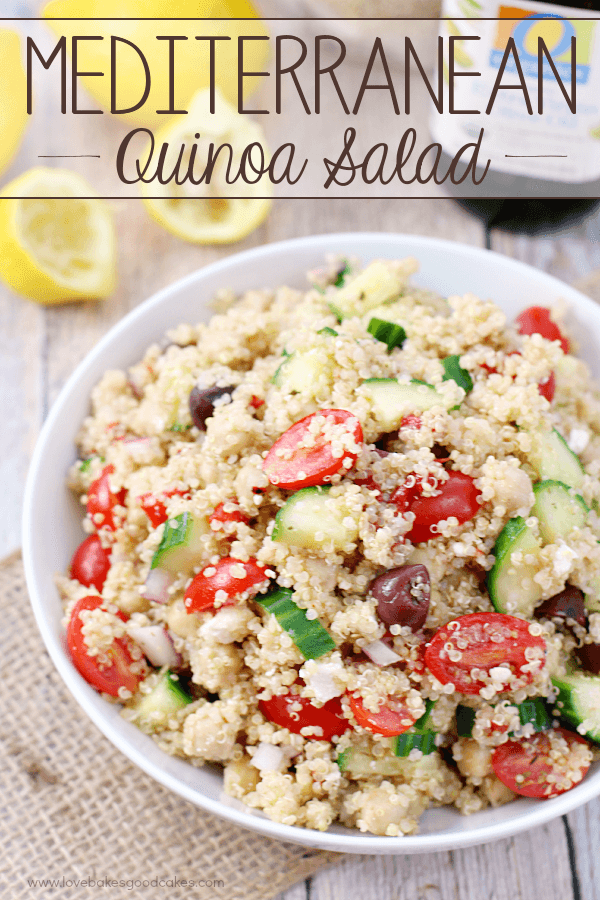 Fresh, flavorful, and healthy is what you'll discover when you combine the fresh veggies with salty olives, creamy cheese, and healthy quinoa. And best of all, this Mediterranean Quinoa Salad from Love Bakes Good Cakes is so quick to make.
This Lemon Garlic Butter Shrimp by Dancing Through the Rain will remind you of sitting at a seaside restaurant smelling the fresh salty air.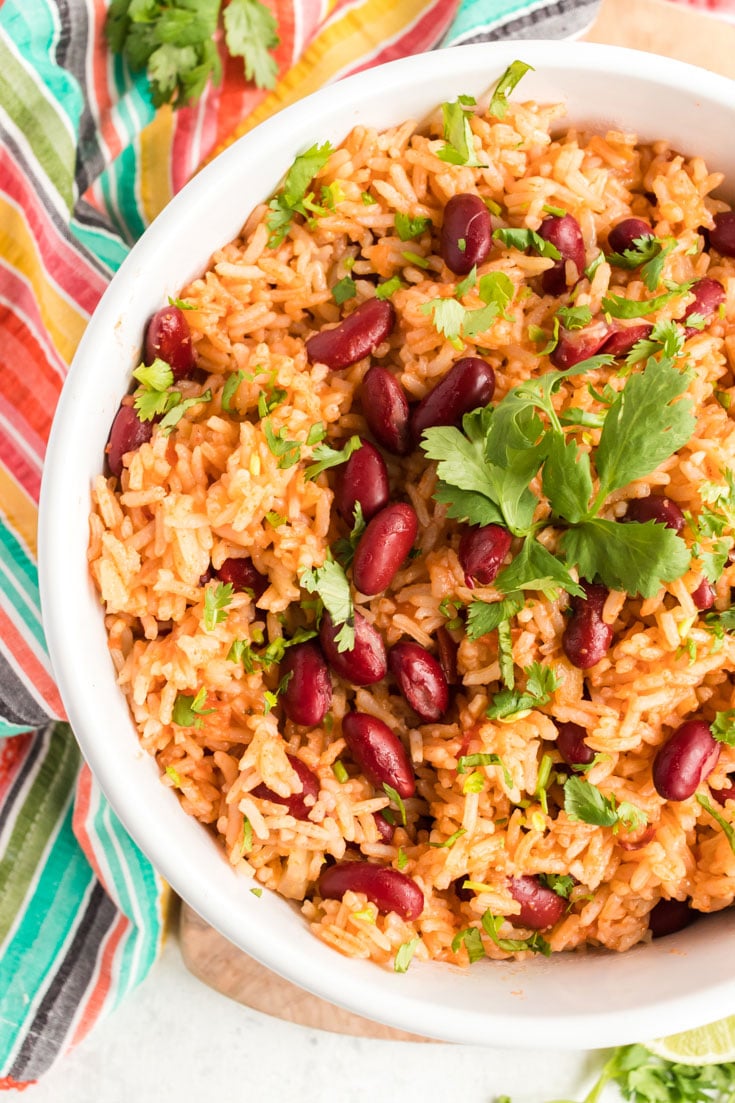 Beans and rice are a classically frugal combination for dinner. This Spanish Rice and Beans from Platter Talk takes the simple combo to another level of amazing.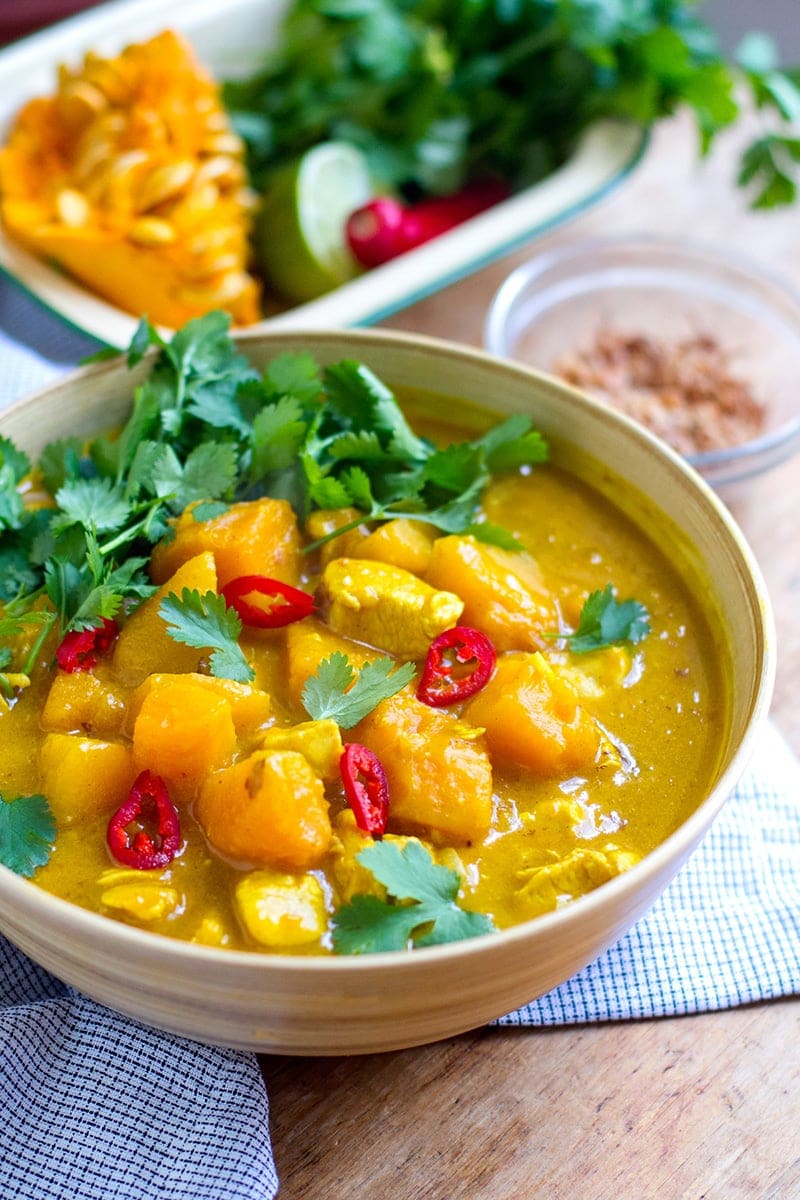 Quick and Easy Pumpkin Curry by Irena Macri is a wonderful and comforting dish for fall, or anytime when the temperature drops to a chill outside.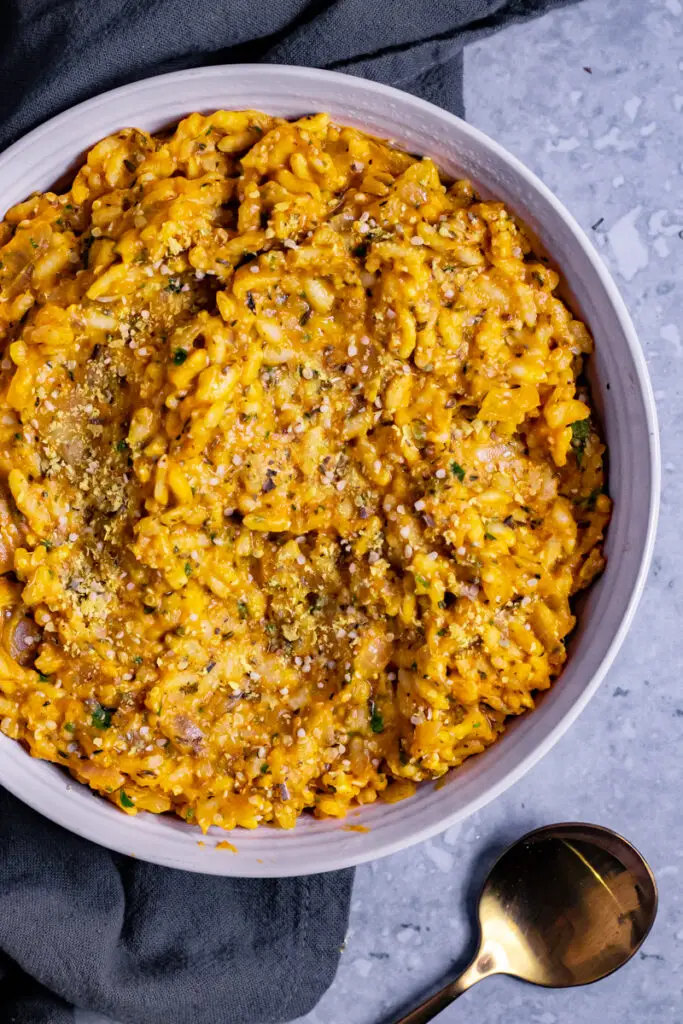 Let me say just two words… pumpkin and risotto. Yes! Doesn't that sound amazing? You'll find this Vegan Pumpkin Risotto by Zardy Plants to be so special.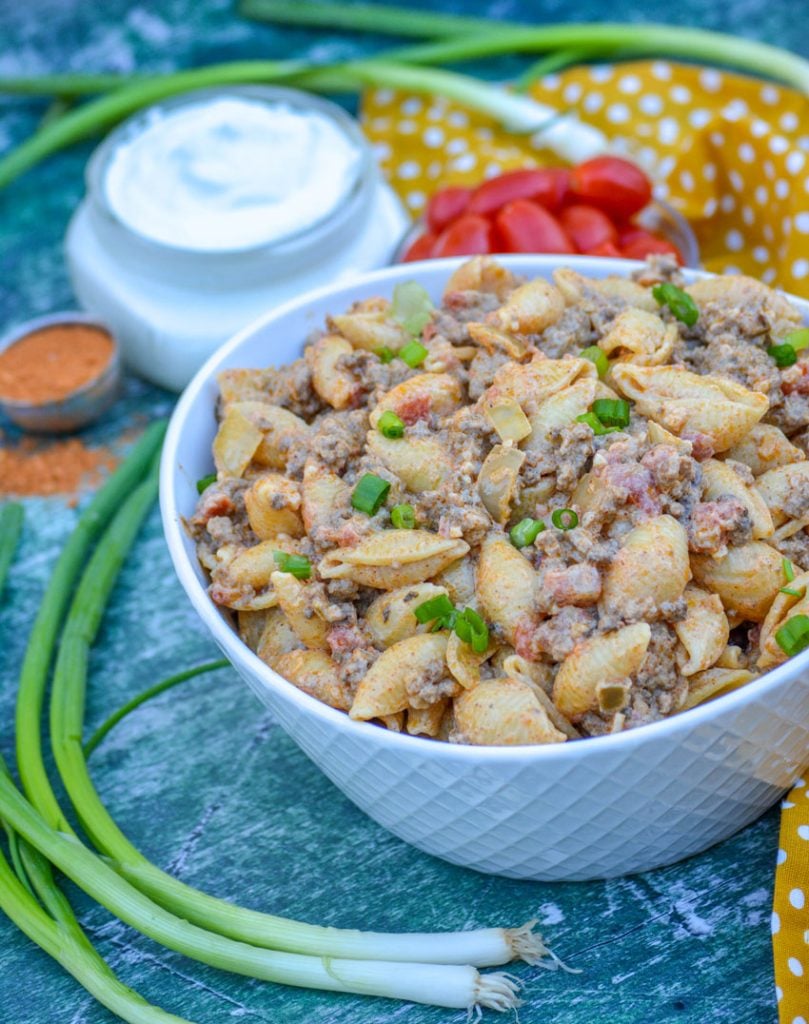 Needing comfort food that's a little different? That's what you'll find in this Creamy Taco Pasta from 4 Sons R Us. It will bring back memories of childhood as you combine those delicious flavors of tacos with the creamy goodness of pasta.
For this recipe of Peanut Curry Chicken by Mae's Menu you'll discover an Indian-Thai fusion of powerful flavors of creamy goodness with warm spices that tastes divine.
Air Fryer Chicken Thighs from Recipes Simple can be on the table quickly when using an air fryer to do the cooking. They'll be crisp on the outside and juicy and tender on the inside.
You'll think you are at the seaside when you enjoy this Air-fryer Salmon from Healthy with Jamie. Serve with cauliflower rice to keep it super low carb.
Doing this as a casserole puts a little twist on a classic American meal. Find Cheesy Meatball Sub Casserole over at More or Less Cooking.
Parmesan Crusted Baked Chicken from Mom Needs Chocolate is both affordable and quick to make. It's packed with flavors so don't be surprised when there are no leftovers.
You'll enjoy this Keto Butternut Squash Soup from Joy Filled Eats. It's dairy, gluten, and grain-free so it will meet the requirements of most low-carb, low-fat eating plans.
There's no doubt that Instant Pots have reduced cooking times. And, this Instant Pot Barbecue Chicken from It's a Keeper Blog just goes to show that you can have a flavorful dinner on the table in no time at all. Serve with a simple side salad that you whip up while the pressure cooker does the work.
Three Pepper Pork Tenderloin from My Life Cookbook is cooked in one skillet. It combines the zingy flavors of the three peppers with pork that is melt in your mouth tender.
Easy Low Carb Pizza Chicken Skillet from Low Carb Yum has just a few ingredients and can be ready to eat super fast.
You'll find these Vegan Wonton Noodles from My Plantiful Cooking with the chewy noodles to be mouthwatering good.
Creamy, spicy, and packed with luscious flavors this Instant Pot Butter Chicken from Two Sleevers adds something unexpected to your meal plan for the week.
The aroma of Chicken with Pesto Pasta from Love Bakes Good Cake with its tender bow tie pasta covered in creamy pesto sauce will make your mouth water even before you can get it on the plate.
This recipe for Air Fryer Popcorn Chicken by Strength & Sunshine is extra crispy. You'll love that it's a healthier version of a family favorite, plus the recipe is allergy and gluten-free.
Get the scrumptious flavors of wings combined with the yummy flavors of Tex Mex with this Extra Cheesy Buffalo Chicken Quesadilla Recipe from 4 Sons R Us.
The oranges in this recipe for Orange Glazed Salmon by Chisel and Fork adds a fresh, bright, flavor to classic citrus accented salmon.
You'll love the zingy taste when you bite into this Cheesy Taco Pasta from More or Less Cooking.
Healthy veggies, low-fat chicken, and all the delectable goodness of Chinese takeout make this Sheet Pan Sesame Chicken and Veggies from Eat Yourself Skinny an excellent recipe to make at home.
This recipe is quick to get on the table Spanish Rice and Ground Beef Skillet from Thrifty Frugal Mom and is inexpensive yet tasty.
One Pan Creamy Garlic Shrimp which can be found at The Movement Menu is gluten-free and meets the requirements for Paleo, Whole30, and is low carb as well. Since it's Healthy, yummy, and quick you'll come back to it again and again.
Spiced Chickpea Stew from Veggies Inspired served with Basmati rice cooks up in minutes for a complete meal.
You'll find this Lemon Pasta with Ricotta and Fresh Peas by The Food Charlatan to be packed with fresh flavors and is perfect for Spring when peas are at the peak of the season.
Try out this Indian Potato Bhaji Recipe from The Winged Fork. It's gluten-free, vegetarian, and loaded with flavors.
If you love spicy foods this 20 Minute Sweet and Spicy Noodles from Served from Scratch will have you coming back for seconds with its flavorful zing.
Homemade Beef Burgers with Garlic Kale & Sweet Potatoes by Irena Macri is a healthy and complete dinner.
You'll be thrilled at how quickly you can serve this restaurant-quality Crispy Rosemary Salt Crusted Salmon from White Kitchen Red Wine to dinner guests or your own family.
This vegetarian dinner option of Mexican Street Corn Quesadillas from Tao of Spice with Creamy Chipotle Sauce packs the flavor with the seasoning and loads of cheesy goodness.
Creamy Italian Sausage and Shells from Platter Talk is made in the Instant Pot so it comes together quickly and is filling so it's great for busy families.
Easy Cheesy Smoked Sausage and Broccoli Pasta from This Ole Mom is one of those recipes that once you discover, you'll add it to your meal plan over and over again.
This warm, comforting goodness will fill your stomach and nourish your soul when you serve this Easy Ground Beef Stroganoff from Mission to Save.
Instant Pot Rotini Pasta with Meatballs from This Ole Mom is like magic since you just dump all the ingredients into the pot, put the lid on, turn it on, and walk away. When you open it back up dinner is done.
Tender, earthy, and oh so good this Stovetop Chicken Marsala from Two Pink Peonies will have you licking the plate if you don't pay attention. Serve over pasta with some delicious Italian bread on the side.
Shrimp Etouffee from Mission to Save will take you on a flavor journey to Louisiana. The classic Creole flavors combined with white rice are comfortingly delicious.
This Thai Cashew Chicken Recipe from State of Dinner is a one-pan wonder that will be perfectly served over rice or Asian noodles.
Easy Meatball Sliders from Deliciously Sprinkled is a kid-approved dinner that the whole family will enjoy.
Shrimp Scampi Pasta by Crayons and Cravings can be made in about 15 minutes. So, you'll want to add this one to your regular rotation of family dinners.
You'll find this recipe uses simple ingredients. You can serve Spiced Pear Pork Chops from Snack Rules with fresh steamed vegetables and long grain rice.
Instant Pot Stuffed Peppers from Instant Pot Cooking is simple and filling with such umami flavors from the mushrooms.
This Asian Beef Rice Bowl at The Recipe Pocket comes together quickly and has all the Asian flavors you crave.
Easy Silly Chili Macaroni from Saving Talents is a complete meal and since you're combining two classic dishes it's sure to become a family favorite.
With just five ingredients this Quick Hummus Pasta by Veggie Inspired is a vegetarian wonder which combines classic Mediterranean flavors for a super yummy dish.
Did someone say tacos? Yes, this Roasted Zucchini Corn and Black Bean Tacos over at Bless this Mess is a hearty veggie-packed dinner.
This Super Easy Beef and Macaroni dish from Thrifty Frugal Mom is packed with flavor and uses ingredients you probably keep on hand.
Air Fryer Falafel from Strength & Sunshine is grain-free and gluten-free that's crispy, tempting, and oh so yummy.
This is another family favorite! Homemade Sloppy Joes from Easy Budget Recipes are both frugal and scrumptious.
Combining healthy foods with classic flavors is a great way to change up the same old menu. This Quinoa Taco Casserole from Food Folks and Fun does just that.
This distinctive and savory Roasted Pork Tenderloin with Fennel from Platter Talk will be amazing served over mashed potatoes.
Easy Vegan Pad Thai from Strength & Sunshine is loaded with stir-fry veggies and is a great gluten-free recipe because it uses rice noodles.
Whip up these savory Sour Cream Chicken Enchiladas from More or Less Cooking and serve some nachos and salsa on the side for a complete meal.
The amazing textures in this Asparagus Pasta with Peas and Pancetta by Pina Bresciani is amazing. You'll be thrilled with the tender bite of the pasta paired with the salty crunch of the pancetta along with that little pop of flavor from the asparagus and peas.
Need a bit of zing in your mouth? Try this Cajun Salmon over at Creole Contessa.
Sheet Pan Gnocchi and Roasted Vegetables by Dancing Through the Rain is packed with deliciously healthy vegetables and the soft pillowy gnocchi makes this dish a comforting go-to.
You can find Easy Vegan Rice and Black Beans at My Plantiful Cooking. It's high in protein and is packed with vitamins for a healthy anytime meal option.
House Special Fried Rice from Mae's Menu can be whipped up in just twenty minutes and has a tangy sweet and savory combination that will have you coming back for more and more.
Sweet Potato Chickpea Coconut Curry over at The Recipe Well you'll love the sweet and curry flavors combined in a perfectly balanced dish.
Delicrunch has a recipe for Easy Salmon Recipe in Anchovy-garlic Butter that comes together so quickly you'll want to pair it with a quick and easy veggie like pan-roasted Brussels sprouts.
Sweet and Tangy Mango Chicken Pizza via Champagne & Sugar Plums is a great dinner for your busy weekend.
Dinner in 10 minutes? Yes, it's so possible with this Wonton Soup Recipe from Food Love.
You'll find everything you need for a complete dinner with this Sheet Pan Lemon Parmesan Chicken with Potatoes and Green Beans over at More or Less Cooking.
Quick Red Beans and Rice from Nibble and Dine is full of classic flavors but comes together quickly.
Such comforting goodness is what you'll experience when you eat this Easy Turkey Casserole that I found at Bitz N Giggles.
Sheet Pan Shrimp Scampi Recipe by The Short Order Cook is so healthy because it uses zucchini noodles making it low carb.
Ditch the canned soup and make this Homemade Alphabet Soup from Bless this Mess instead.
Coconut Chicken Strips with Spicy Mayo Dipping Sauce at My Poppet Living takes a traditional kid's dinner to a whole different level.
This Instant Pot Salsa Chicken that is found at Flour on My Face is a versatile recipe that can be used for tacos or served over rice. You can even use it as a base for various casserole dishes as well.
You won't miss a thing when you cook up this Lemon Chicken with Broccoli from Whole Kitchen Sink that's healthy and flavorful.
Ready in under 30 minutes, this easy Bruschetta Tilapia from The Spice Train has all the traditional bruschetta flavors plus extra substance and deliciousness from fresh tilapia fillets.
This Grilled Moroccan Chicken Breast from Low Carb Yum does take quite a bit of prep time because of the marinade. But you can do that overnight in the fridge, the actual cooking time is under thirty minutes.
Baked Garlic Parmesan Chicken from More or Less Cooking is moist and tender but packed with garlicky flavor that is scrumptiously good.
Baked Pesto Chicken from Cook at Home Mom is healthy, quick, and simple. You'll be adding this one to your regularly used list and on top of that, it's perfect for when you've got guests over.
Instant Pot Beef and Broccoli from Whole Kitchen Sink is packed with crave-worthy flavors of Asia that you'll be thrilled to serve in under 30 minutes.
Make this healthy Oven Baked Salmon with Lemon and Dill from Trendgredient in under 30 minutes. It is easy and tastes amazing. Perfect for a weeknight!
This Smothered Chicken and Rice recipe will become one of your regular, go-to, recipes because it's simple, comforting and oh so good. While the recipe says it takes 35 minutes to complete, I wanted to go ahead and include it here. Because, if you used pre-cooked bacon, you'll prepare it quicker.
Baked Spaghetti and Meatballs from Joy in Every Season takes a classic family dish to another level with that baked cheese goodness on top. You're going to love it with crusty garlic bread and a classic Italian salad.
Creamy Shrimp Chipotle Sauce from 24 Bite has all the creamy goodness and smokey flavors without the dairy.
Skip the expensive restaurant and stay at home for your next date night with this luscious Creamy Garlic Chicken from Easy Chicken Recipes.
You're going to enjoy this Pesto Turkey Tortellini Soup from Cookin Canuck which is light yet filling. And since it's easy to cook in under 30 minutes you can get dinner served fast and easy.
This Vegan Chili from Zero Fox is loaded with the healthy goodness of fiber and loads of good vitamins.
Filled with healthy goodness this Tuscan White Bean Skillet from Nourish and Fete is a healthy Vegan meal that's filling. You won't miss the meat at all.
Take a flavor trip to the Middle East with the warm spicy flavors of this Lebanese Rice Vegan Recipe from Plant Based Folks.
This kid approved Ham and Cheese Crescent Ring from Feast for a Fraction will be the family's favorite dinner whenever it's on the weekly meal plan.
This American Goulash from Easy Budget Recipes is a classic American dish that is comfort food at its finest.
No need for takeout when you can make this Chicken Fried Rice from Chisel and Fork at home in your own kitchen.
You won't miss the meat in this One Pot Vegetarian Chili Mac from Cozy Peach Kitchen as the beans provide all the protein you will need.
With just a few ingredients you can get Chili Garlic Shrimp and Broccoli from The Toasty Kitchen on your table with ease.
No matter what time of day you need to eat you'll find this versatile Mushroom Shakshuka that I found at My Poppet Living to be a fun dish that is found in Northern Africa and throughout the Middle East.
Skip the expensive restaurant and stay at home for your next date night with this luscious Creamy Garlic Chicken from Easy Chicken Recipes.
I hope you get a chance to try all these delicious meals in under 30 minutes. Use this list to create 3 month + meal plan for dinnertime. Or add a few each week to your regular family favorites and you could be enjoying new recipes for the year. For more wonderful lists like this one visit The Content Spot 100 Things Ideas for Everyone Now hop over to our 20 Easy 30 Minute Meals for more recipes. Lastly, here's some wonderful cookbooks featuring many 30 minute meals!