I feel like pineapple crafts don't get as much recognition as watermelon crafts do. I mean, kids love the mouth-puckering taste of pineapple just as much as they like the sweetness from a watermelon, so why wouldn't they want to make pineapple arts and crafts too, right? In this roundup, you will find pineapple crafts easy for kids of all ages to make by themself! Some pineapple craft ideas can be used for decor, some are pineapple paper crafts, and so much more. You know what they say, when life gives you yellow paint, you make pineapples! Actually, they don't say that, but I like it. Read on to find 15 Pineapple Crafts for Kids!
Tiny hands make adorable little pineapples, and your preschoolers will love making this handprint art for the letter "P" while they learn the alphabet.
This fun craft requires minimal supplies and is a great way to help your child with their fine motor skills!
Your child is going to enjoy making this fun bubble wrap pineapple craft. It is simple, and it comes with a free pineapple template, plus who doesn't love bubble wrap?!
Little hands and tiny fingers make this craft almost as sweet as the juicy fruit it's representing!
Does your child like to read? Is pineapple their favorite fruit? If so, they are just going to love making these cute DIY origami bookmarks!
Painting pasta is so easy to do; and a ton of fun, not to mention the pasta adds a 3D texture that will really make this pineapple craft idea pop out!
You don't need many supplies to make this fuzzy pineapple craft that will remind you of warm summer days, even in the winter!
These paper pineapples are easy to make and would be a great way to spice up any summer party!
Pineapple decor is all the rage right now, and your kid is going to have so much fun making their own no-sew stuffie with this tutorial.
The next time you go on a family hike, get the kids to fill a bag up with pinecones to use for this tropical craft and many others.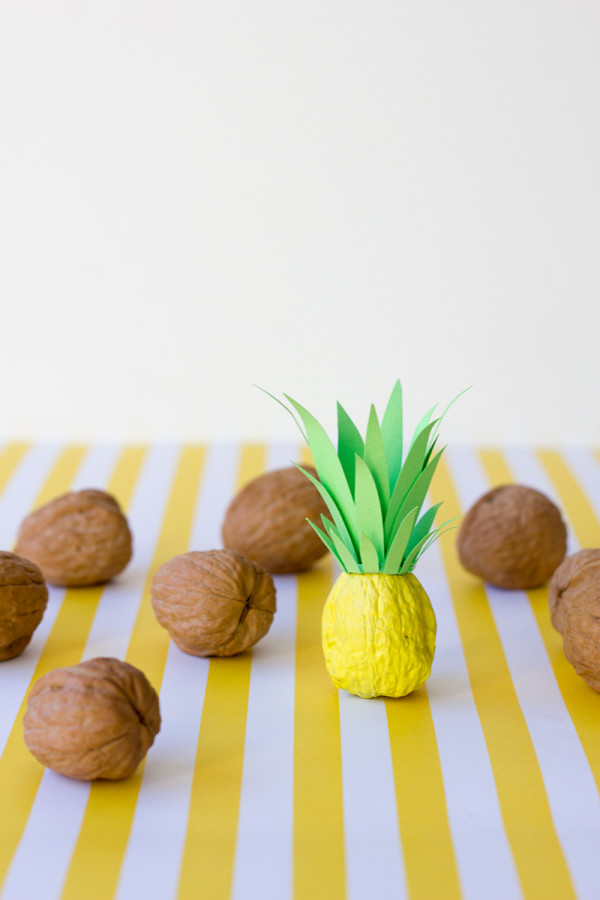 Who knew that you could make an adorable little pineapple out of a walnut, yellow paint, and some green paper!
A cute craft for spring or summer – this toilet paper roll craft is so easy to make your kids can do it all by themselves!
Get your kids to add some fruity flare to their desks with this DIY pencil holder that looks like a juicy pineapple!
Messy art is the best kind of art! Let your children's imaginations run wild with the colors they use to make this pineapple craft.
This has got to be the most adorable pair of glasses I ever saw, and I would totally wear these around if my kid made me a pair of them!
Closing
So there you have it! 15 adorable pineapple crafts kids to keep those kids entertained for hours. And if all these cute projects give you a craving for pineapple, visit our Roundup of Savory Pineapple Recipes.