Have you heard how you can learn a craft on Bluprint and Creative Live? Well, they are both fabulous websites to learn new crafts or improve your skills!
This post contains affiliate links. Read my disclosure for more info.
Learn a Craft and Save
Don't you love how the internet enables us to learn a craft and skills? There is more craft courses online than ever and some of the best I have seen are from Bluprint and Creative Live. Why? Because they are created by professional artists in a professional studio. They know how to teach clearly for the learner to understand. I've not been disappointed with any classes I've taken at either Bluprint or Creative Live.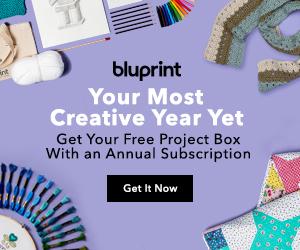 Currently I'm taking a quilting class at Bluprint. I know how to sew from making clothing to dolls and home decor. And I've done some quilting but I find it challenging. So, I thought it would nice to take classes. And, since I have no quilt shop near me (I live 30 minutes+ from closest city), I decided to take them online. The class is easy to watch and understand. I've been watching it all before I start on my quilt figuring watching twice through would ensure my success. You'll have to keep an eye out for upcoming blog posts on my quilt project!
And quilting isn't your thing, there are many, many other subjects including art, knitting, cake decorating and more.
Join Bluprint For Just $100 & Get a Free Project Box! For just $100 a year, you can join Bluprint and get a year of unlimited access to classes, 12 classes to own forever, a free project box and free shipping on supplies. Choose from maker favorites like quilting, knitting, and cake decorating — all of the supplies you need for your first projects on us! Valid at myBluprint.com through 1/31/19.
Creative Live Class Sale
If you haven't attended a Creative Live class before, you're missing out. Their classes are top notch! I have attended several of their handmade business classes and found everyone packed with great learning for any handmade artisan. In addition to their business classes, they have many other subjects like photography, art, lettering, graphic design and more. Click the image below to sign up and shop today: